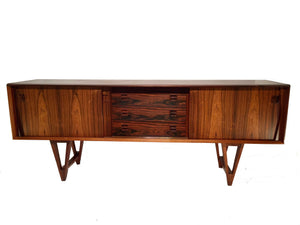 The Frug
Kai Kristiansen Rosewood Cabinet
This exceptional Kai Kristiansen designed low sideboard has book matched sliding doors. The center door opes to revel three drawers and the right and left sides open to revel open storage with one adjustable shelf. This piece is in excellent original condition. It measures 6'3" Long is 29" High and 18" Deep.
Kristiansen was born in Denmark in 1929. He trained at the Royal Danish Academy of Fine Arts (Det Kongelige Danske Kunstakaemi) and finished his apprenticeship as a furniture maker in 1948. He soon found employment as a journeyman cabinetmaker with Kaare Klint, a man sometimes referred to as the father of modern Danish furniture design.
Klint's design philosophy was based in modernizing classic forms. He took inspiration from traditional furniture forms and craftsmanship, but saw the need for a more progressive and humanistic approach to design. To that end, Klint devised a set of data based on average human measurements, proportions, and dimensions that he believed should be used as a benchmark in all furniture design.
Emulating his mentor, Kristiansen would become known for excellent craftsmanship and innovative, human-centred design. He set up his own design shop in 1955 where he worked with a range of manufacturers to create furniture "defined by clean lines and a perfect balance of form and function."