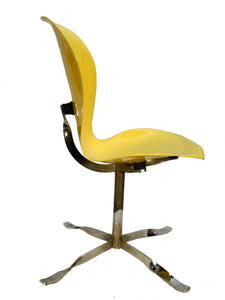 The Frug
Gideon Kramer Chrome and Lacquered Wood Side Chair
Visionary designer, artist, inventor, teacher, builder and businessman Gideon Kramer was born in Seattle Washington in 1917. Kramer is recognized as one of the greatest industrial designers of our age.
Kramer's probable greatest claim to fame was his famous and award winning ION chair. An icon of Mid-Century modern furniture design, the ultra ergonomic chair was the result of his philosophic approach to design. According to Kramer, the design came about because he simply viewed the act of sitting as a "dynamic rather than static condition." By 1947 Kramer's ION chairs began to gain serious attention. The New York Museum of Modern Art included one in its Fourteen Americans Exhibit.
When planning for the Seattle World's Fair Kramer released an improved version of the chair which Interiors magazine described as "spine pampering".
This chrome and lacquered Lemon colored chair manufactured for the American Desk Corporation measures 29.5" High, 25.5" Wide and is 31.5" Deep.