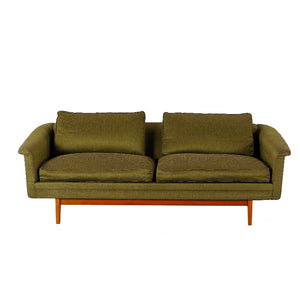 The Frug
Saratoga Sofa by Folke Ohlsson
Born and raised in Sweden, Folke Ohlsson moved to the United States in 1953 and established DUX, Inc. in San Francisco the same year. Six years later, Ohlsson moved the company to Burlingame, California. His has received world-wide acclaim for his furniture designs which are generally referred to as "Scandinavian Modern" but often get categorized as "Danish Modern" or "Danish Teak". Ohlsson's designs blend graceful details of traditional style with the simplicity and good proportions of contemporary style.

Ohlsson received more than 30 awards including the Triennale Exhibit in Milan and the Good Design Show of the New York Museum of Modern Art. He lead the operation that has given DUX furniture its international distinction. In addition, his timely, but timeless designs are some of the world's most copied. A patented, knockdown armchair, has been widely copied and mass-produced by more than 100 furniture designers.
Folke Ohlsson made a significant contribution to the widespread acceptance and tremendous popularity in the United States of modern Scandinavian furniture design. In recognition of his work, he was awarded Sweden's Royal Order of Vasa decoration by King Gustav VI Adolf in 1964.

This Saratoga Sofa designed by Folke Ohlsson Dux Mobel A.B. was designed in 1962 and is in Excellent condition. The Sofa measures 75" in Length, is 35" Deep and 36" High.