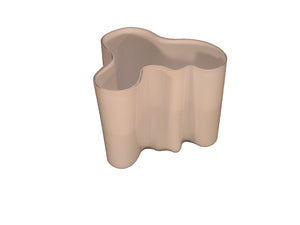 The Frug
Aalvar Alto Savoy Vase
Alvar Aalto is one of the greatest names in modern architecture and design. Glassblowers at the iittala factory still meticulously handcraft the legendary vases that are variations on one theme, fluid organic shapes that let the end user decide the use. Interpretations of the shape in new colors and materials add to the growing Alvar Aalto Collection that remains true to his original design.

Born Hugo Alvar Henrik Aalto (February 3, 1898 - May 11, 1976) in Kuortane, Finland, was noted for his humanistic approach to modernism. Aalto's legendary glassware includes the world-famous Aalto Vase. His vase design caused waves when Iittala presented the vases at the Pair world exhibition in 1937. Aalto simplified design elements to result in millions of combinations that let the end user decide the use. No matter what one sees in the mysterious form, the Aalto vase has become one of the world's most famous glass objects.
This white cased in clear vase has an acid etched signature of Alvar Aalto in block letters and measures 6.5" High, 8.1/4 Wide and 7" deep.